Posted in Misc, Twitter on August 9th, 2010 by admin – Be the first to comment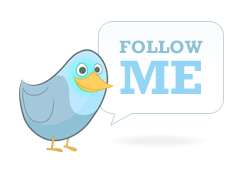 Whether you are new to SQL Server or are a well-seasoned DBA/Developer, the one thing that has made SQL Server a knockout lately is the huge community support. SQL has a great following of users, authors, bloggers, and presenters. What you may not know is also SQL is huge on Twitter. Want proof? Take your next troubling question (after you have done a bit of research on your own, of course) and post a tweet with the hash tag #sqlhelp. Yes this means you have to set an account up if you don't have one but it is well worth it. If you have no idea how to use twitter start with this manual from Brent Ozar (blog|twitter):
The Simple Twitter Book
Now assuming you have a twitter account, some base knowledge of tweeting and have posted your question on twitter with the #sqlhelp hash tag, watch your stream on twitter. Now I cannot guarantee you will actually get a response but chances are pretty good. And the people responding are some of the best. So be patient and if you don't get a response within a day feel free to post again. There is a large base of people that monitor the #sqlhelp tweets and try to respond but if someone doesn't know they won't respond (typically). Remember this is all voluntary, though some people are getting jobs in the social media field most of these people are just doing just to help others.
All that being said here are a few points of my own on Twitter and getting help through #sqlhelp
Try it! - Even if you are a bit skeptical, it's totally free and zero commitment.
No Pressure – If you are not a big fan of twitter or social networking don't worry. It's there if you want to use it.
Give back- You may have experience others don't. If you know the answer please share. I have found it a great learning and growth opportunity. No pressure though.
Use Twitter Tools – There are many desktop and mobile apps that are free to use. Personal favorites are Seesmic and TweetDeck.
No Marketing – Don't use it to market. Ever. No one is a fan of this and you will be called out.
Follow Me – Sure this is a shameless plug but if you are new or well versed in twitter feel free to follow me and send me a message @speedracer.