About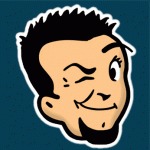 My name is John Racer and I am SpeedDBA. If you are asking yourself "Why SpeedDBA?" read on. If you are not you should still read on, I mean you already got this far, right? Growing up, for reasons I still am not sure of, I was called by the nickname Speed Racer. Okay, I guess my last name and the fact that this was a character from the 50′s and 60′s Japanese Manga/Anime that found its way to being a popular Saturday morning cartoon might have had something to do with it. At first I actually hated the nickname but years later, when I actually came to my senses and realized Speed Racer was a pretty heroic guy that drove what is still one of the coolest cars ever, I let bygones be bygones. Now the name as you could guess is a bit common. I was lucky enough to be on the early end of twitter and actually get the account. As for the site, a mix of my nickname/twitter account and my profession seemed appropriate. Symbolic of performance, speed to market and heck, I think it sounds pretty catchy too. So, enough with the story of the name, who is SpeedDBA…
I am a bit of Database Administrator, Business Intelligence Developer and Data Warehouse Designer with strong knowledge of telecommunications, care center, compensation and business operations systems. Experienced with implementation and maintenance of SQL Server and Oracle Multi-Terabyte High-Availability environments. Broad experience with project management through SDLC, RAD and Scrum. Driven by the challenge to understand business and processes and apply this knowledge create innovative applications of technology to improve organization and operational efficiency.
My specialties include:
SQL Server 2000, 2005, 2008/R2
Oracle 9i, 10g, 11g
Business Intelligence
Data Warehousing (Kimball Top Down)
Reporting Systems
Commissions Systems
That about sums me up on the technical side. I am passionate about learning new and interesting technology relating to almost any topic. Aside from tech I am pretty handy around the house. I have a mantra that I will dig, build, install or tile anything once so that i know what to look for the next time I hire someone to do it for me. Of course I seem to fall short on the hiring part all to often. I am married to my wife Jen (sorry ladies) and we have a wonderful little girl.
With all of that said, thanks for checking out this site. Feel free to contact me with any questions or comments.